A low fat, non-sticky and aqueous lip moisturiser that reduces lines and cracked lips. Uses food grade ingredients, dandelion extract, lysine and less than 10% oil.


Main Actives
Brassica napus (Canola Oil), Lysine, Taraxacum officinale (Dandelion) Extract, Hyaluronic Acid.
Did you know women eat 7 lbs of wax and fat from lipsticks and lip balms a year? We want to change that. The Watercream is different from most other glosses and balms, which typically are 90-100% oil and wax. Watercream uses less than 10% oil. The oil used is food-grade Canola (Rapeseed) oil, which is low in saturated fat and high in Omega-3 fats. 
Expiry Aug 2023.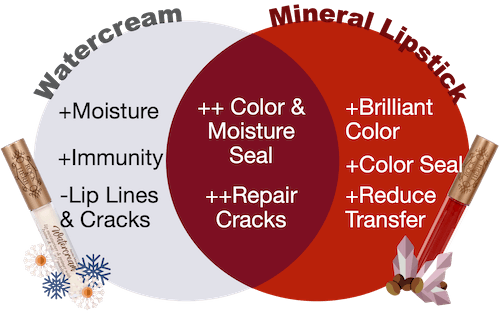 How to Use
Apply as a lip cream and serum on its own. To repair cracked lips quickly, apply as primer before application of long lasting lipsticks. Mineral Aegis Liquid Lipsticks are especially formulated to seal Watercream to the lips to provide long-lasting moisturization and treatment.
Science of Nature & Tradition
The Watercream uses food grade winter dandelion extract contains potent anti-inflammatory anti-oxidants that calm and repair the lips. The dandelion extract has been further suggested to boost immunity. L-lysine is an essential amino-acid that is used in lip care treatments for cold sores.